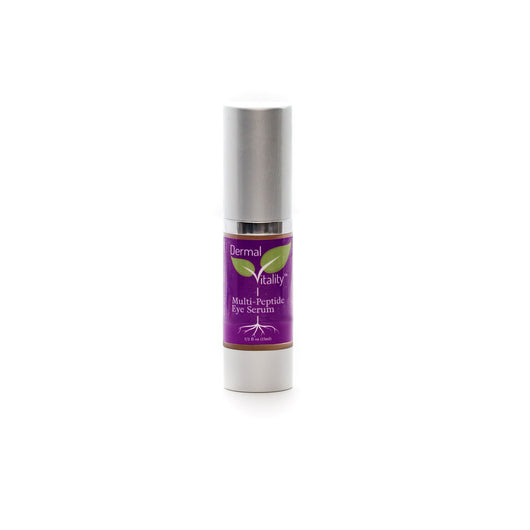 Dermal Vitality ~ Multi Peptide Eye Serum
Regular price $48.00 Sale
Dermal VitalityTM  Multi Peptide Eye Serum is used to minimize fine lines and wrinkles around the eyes. Formulated with Hyaluronic Acid, Seaweed Extract and Soy Bean Extract, this serum aides in tightening connective tissues to lessen the appearance of fine lines and wrinkles. It stimulates cellular and fibroblast activity by building collagen, which promotes cell renewal and cellular turnover. It also lightens dark circles.
Multi Peptide Eye Serum helps retain and build moisture in the skin leaving skin feeling soft, smooth and hydrated!
1.2 FL oz ( 15 ml)
---
Directions: Apply to clean, dry skin morning and evening. Apply a very small amount to finger and gently press onto area surrounding the orbital bone.
Ingredients: Chondrus Crispus ( Seaweed) extract, Purified Water (aqua), Hyaluronic Acid, Oxidoreductases, Glycerine Soja (soybean) protein, Hydrolyzed Rice Bran Protein, Phenoxyethanol, Ethylhexylglycerin.